Firearms, Tactical & Survival Gear at Great Prices
Firearm Refinishing Services
We offer premier firearm refinishing services including Cerakote and KG Gunkote. We are experts in firearm customization and restoration. With 15 years in the industry, we are capable of taking care of all your firearm customization and refinishing needs under one roof. Not all applicators are the same and there's a reason why customers send us projects from around the country. We offer a lifetime guarantee when our competitors will not. Find out why today!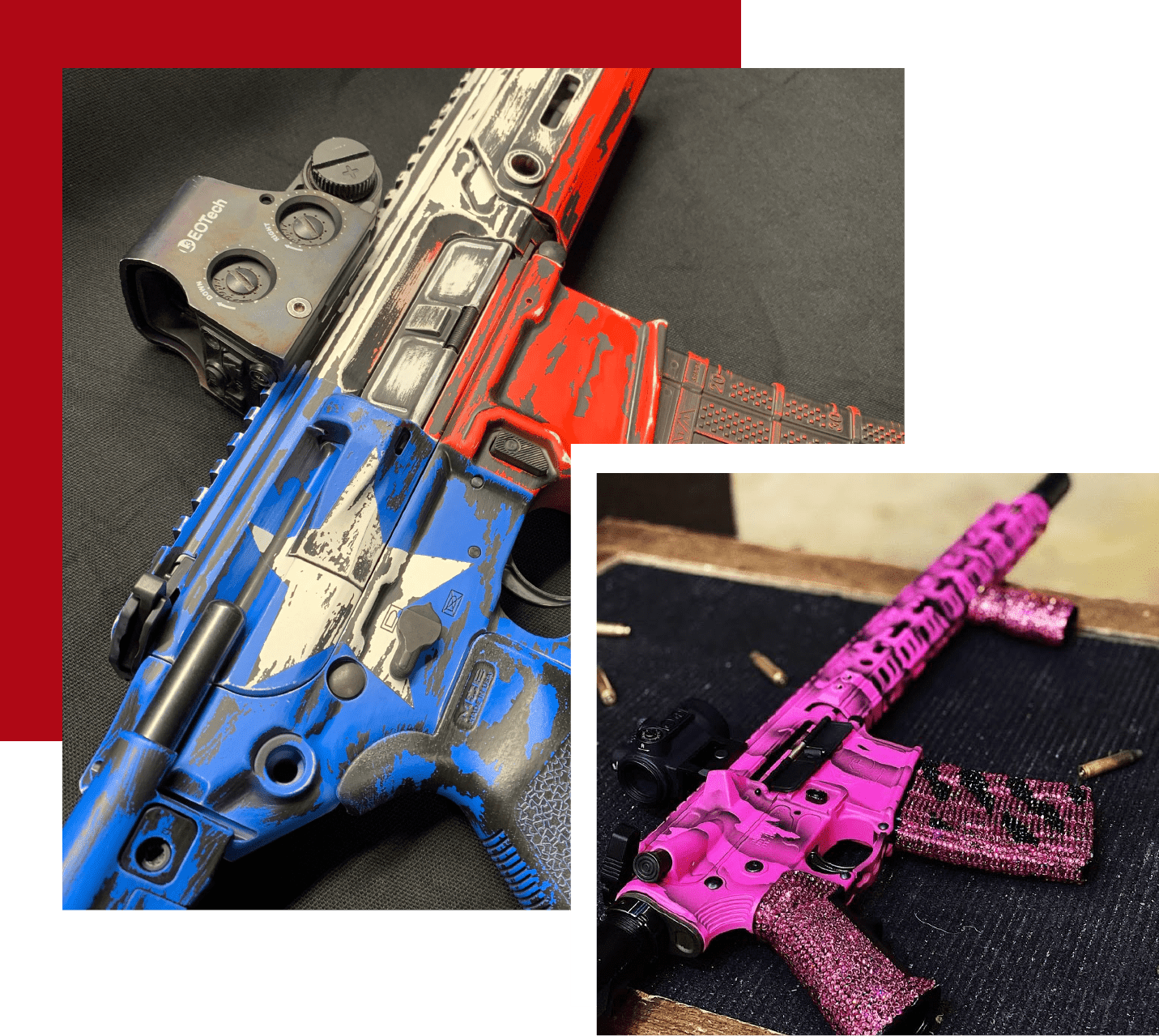 Our firearm refinishing services include full disassembly, cleaning, assembly & function check of all firearms before delivery
We provide the best possible pricing on our refinishing services. We also provide buy now pay later for all products and services

Our coatings enhance physical performance properties including abrasion/wear resistance. Our limited lifetime guarantee protects you!
Excellent
Based on 12+ reviews
02/04/2022
PAS12 Shockwave
I really like my shotgun, what can I say, maybe the 552nd shell I shot has made me like it more. I shot slugs, 00s, bird shot all shot great.
02/04/2022
Very good quality
I have bought a Turkish made "rapid fire" shotgun in the past that was a jamming piece of junk. But this is a very solid, well made firearm.
02/04/2022
This is not another Turkish shotgun
I have owned my fair share of Turkish shotguns. I saw these bullpups and I liked the colors, so decided to add a red one to my collection.
02/04/2022
Say Hello To Little Friend
YUP! This bullpup with the 20 rounds drum magazine looks sick. Everybody keeps asking me if it has silencer on it hahaha, the barrel shroud sure looks like a silencer.
02/04/2022
Great purchase and nice find
I am very pleased with shotgun, very well built and functions very smoothly. Probably one of the best shotguns I have owned.
02/04/2022
Love This Gun!!
A buddy of mine purchased this bullpup from the FC Tactical company and was raving about it. Went to the range with him and got to shoot it for the first time.
02/04/2022
Outstanding customer service!
So I bought one of those PK12 AR12 and I gotta say I was fully prepared to see a pretty similar AR12 like the ones all over the market...
02/04/2022
Very nice gun, exceptional customer service
I did a lot of looking for the best AR12 I could find. FC Tactical got my attention via GunBrokers I will admit due to its hot design.
02/04/2022
Sweet gun!
Absolutely love this gun! Put about 500 rounds through it so far with no issues what so ever...... Plus, gets a lot of attention at the range
02/04/2022
Awesome shotgun!!
By far one of the best shotguns I have ever owned. In my opinion this gun is steel for this price considering the quality and the looks.
02/04/2022
Best Shotgun I have Ever Owned!!
WOW!! I know there is a lot of those short shotguns out there. Mossberg started and many other companies are making the same gun.